Database Update
Configuration Assistant > Registration > Registration Keys > Launch Update
The Configuration Assistant includes a function to update the EXO Business database for any changes to the program. This function runs automatically as soon as the Configuration Assistant opens, in the following circumstances:
After a product upgrade, when the program files are a newer version than the database.

After a new add-on module has been added.
You can also run the Database Update function manually by clicking the Launch Update button on the Registration Keys window.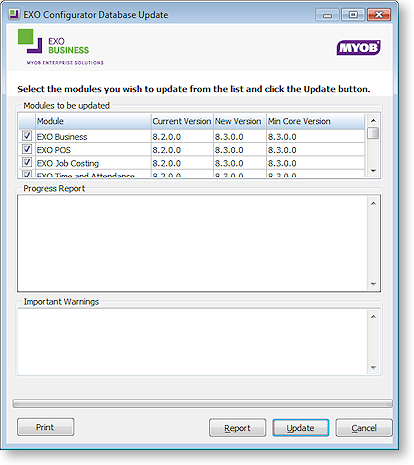 Caution: It is strongly recommended that the database be backed up before any updates are performed. This means the database can be restored and operation continued on previous program versions should any issues occur. Never restore a backup over the only live copy of a database, just in case a backup is invalid, in which case the live copy will could also be destroyed. Ideally rename the original database for archival purposes.